MAG-OX® 400
IS THE #1 PHARMACIST
RECOMMENDED BRAND*
Most Potent & Concentrated Form of Magnesium
Pure Pharmaceutical Grade
Promotes Health and Improves Vitality
Over 50 Years of Expertise
Improved Formula – Now Coated and Easier to Swallow
Also Available in 60 Tablet Bottles
*U.S. News & World Report and Pharmacy Times, 2019-2020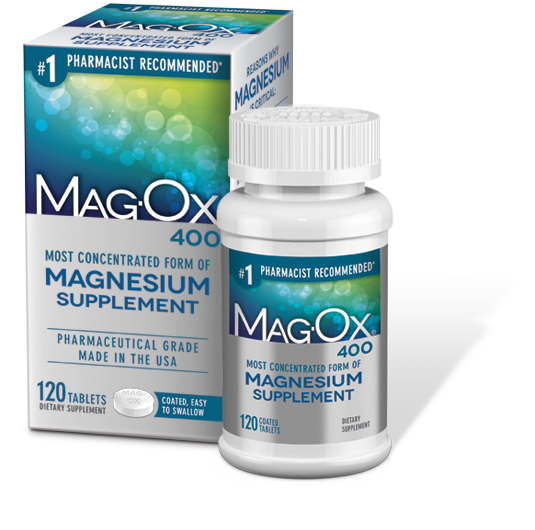 Pharmaceutical Grade quality Mag-Ox® 400 has been manufactured
to rigorous quality standards for over 50 years.



Suggested Use:
Take 2 tablets daily with food or as directed by a healthcare professional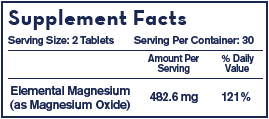 Other Ingredients:
Microcrystalline Cellulose, Hydroxypropyl Cellulose, Crospovidone, Hypromellose, Maltodextrin, Magnesium Stearate, Silicon Dioxide, PEG.
Caution:
If you are pregnant or nursing, taking medication, or have kidney disease, consult your physician before taking this product. May have a laxative effect.
Keep out of reach of children.
Bottle contains non-edible desiccant pack(s).
Keep in a cool dry place, tightly closed.
Do not use if safety seal under the cap is broken or missing.
MagOx.com
Manufactured for:
Akorn Consumer Health
A Division of Akorn, Inc.
Ann Arbor, MI 48105
© 2016 Akorn Consumer Health
MADE IN USA
---
Questions or Comments? Call 1-800-579-8327. Side effects associated with use of this product may be reported to this number.
MAG-OX®
400

MASTERS SERIES


A MYRIAD OF BENEFITS

EMOTIONS:
Vacation not required. Magnesium helps to support good emotional health, keeping your head clear.*
DIGESTION:
Give your stomach a break. Magnesium neutralizes stomach acid and alleviates symptoms. Less acid means less gas.*
MINERAL DENSITY:
Feel as young as your bones. Some studies suggest that increasing magnesium intake might increase bone mineral density.*
RESTFUL SLEEP:
The sheep will have to find another job. Magnesium is known as a natural sleep aid. Lower magnesium levels can allow calcium to flow into the cell. This imbalance makes it harder to fall asleep.*
NURSING MOM:
Oh baby, take a look at this. Mothers who are nursing could take Magnesium to help make up for the increased need for the mineral. Be sure to consult your doctor about supplementation while pregnant or nursing.*
CARDIOVASCULAR HEALTH:
Magnesium helps support cardiovascular health by helping lower blood pressure. Time to take a chill pill, literally.*
ESSENTIAL NUTRIENT:
It takes a master to be an essential nutrient. With a multitude of benefits, Magnesium is a crucial part of any diet. From building stronger bones to giving you energy throughout the day everyone needs some magnesium.*
ENERGY PRODUCTION:
Magnesium helps boost your energy levels to keep you active throughout the day. You can forget that second cup of coffee.*
BONE STRENGTH:
Got Magnesium? Magnesium maintains bone strength by helping to absorb calcium*…keeping you strong and sturdy.
TOOTH STRENGTH:
We can't whiten your teeth, but we'll keep them strong. Magnesium helps maintain the strength of your teeth* to keep them in top chomping shape.
METABOLISM:
Burn baby burn! Magnesium helps the body to metabolize fats*, absorbing and utilizing it for energy. Hot bod here you come!
MUSCLE HEALTH:
Keep that body a movin'! Magnesium helps to maintain healthy muscles* by contributing to the growth and over all strength.
ELECTROLYTE BALANCE:
Energy drinks need not apply. Magnesium contributes to your electrolyte balance and helps to keep it replenished throughout the day.*
NERVOUS SYSTEM:
Take a deep breath in, and let it out. Magnesium supports normal functioning of the nervous system,* helping to keep you at ease. Namaste.
RELAXATION:
Beach time! Magnesium helps to reduce the production of cortisol* also known as the stress hormone.
RESPIRATORY HEALTH:
Give yourself a little breathing room. Magnesium helps to relax your bronchial muscles* helping you breath easier.
*These statements have not been evaluated by the Food and Drug Administration. This product is not intended to diagnose, treat, cure or prevent any disease
STORE LOCATOR